We received another picture of the revised kitchen design - this one is looking back from the terrace door back towards the entrance.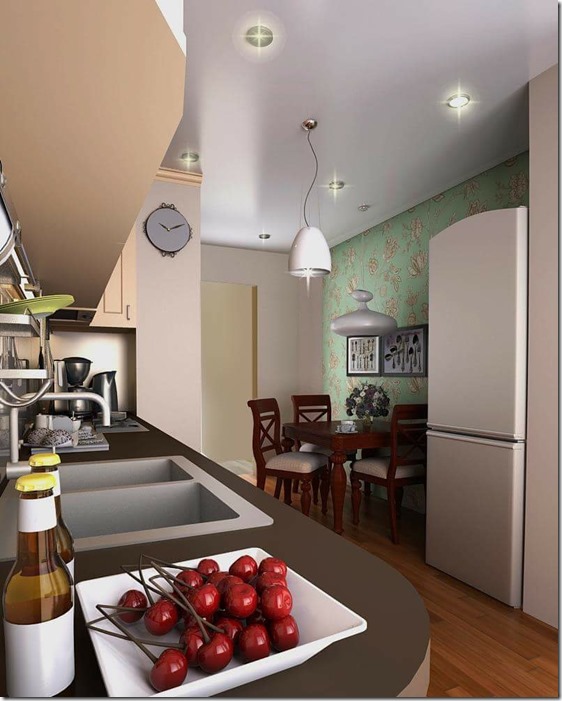 The alcove to the left of the clock is part of the design which I was never too sure how it would look, so this picture makes it a bit easier to see. We need to find room in the kitchen for a kettle, microwave, and also a toaster so that alcove could serve as the home for the kettle and toaster, and the microwave could go right at the other end of the countertop, where the bowl of cherries is shown.
The lighting is still a little off - we seem to have got another pendant light for some reason (the white one in the middle) when there should only be a single one dangling over the dining table, and the line of spotlights leading to the fridge should probably be centered on the doorway… but we'll need to take a closer look at that.
I think that green wallpaper can go - we'll just be painting the wall… maybe a different colour like the designer has suggested we do there.
We  went to see a kitchen manufacturer yesterday and we were very impressed with the quality of both their showroom and also the adjoining manufacturing facility. Also the guy we spoke to there really knew his stuff and was very helpful in helping us to decide on what materials to use. For the cupboards we'll use laminated MDF and for the countertop it looks as if we'll be going for the corian-type. The actual brand we saw was Staron (formerly made by Samsung - whose name was on the sample pack he had - but this side of Samsung's business was sold off to a German company called Lotte in May 2016). We saw a very nice deep brown quartz sample which would work very well with this design.