We made a preliminary decision on the kitchen equipment yesterday - we'd decided on Bosch so this is what we liked in the shop. Unfortunately they had a 2-day sale on Bosch products with big discounts but this ended yesterday so we neither had the time nor the cash to buy anything yesterday… but we have a few months before we need to buy the equipment (even longer for the fridge) so we may get lucky in the January sales - or maybe even luckier if we can bring them in from Germany and cut out the local dealers' 100% mark up!
We liked the knobs at the front (their position, not their quality*) rather than down the side, which was the case with a lot of other models. The problem with having knobs down the side is that you generally put pans on the gas ring with their handles pointing off to the side, so they'd be in the way if you were quickly trying to turn the gas off to stop something boiling over.
* After checking the reviews of what looks like the same product but with a different regional code at bosch-home.co.uk it seems that some people have had problems with knobs melting (and they did seem very lightweight plastic things when I tried them in the shop) - particularly the left one which, according to the reviewers, seems prone to melting if you put a big pan on the left-front ring.
It may be possible to buy some metal - or even black ceramic knobs here on ebay:
Metal knobs could still get hot - it sounds silly, but it might even be possible to make some black WOODEN knobs which might help them to stay cool to the touch. They'd need to get very hot before they burst into flame!
http://www.ebay.co.uk/bhp/gas-hob-knobs
WE chose this mainly because it was the closest match we could see to the brushed stainless finish on the hob.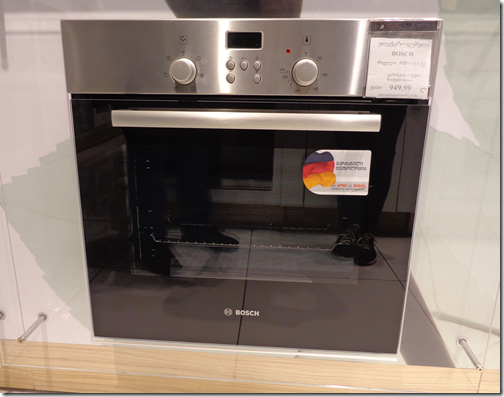 This was a bit of a surprise find - we had a free-standing dishwasher in mind when we went into the shop, but saw this and liked it. There was a wider version but we think this size will be good enough for what we want.
It was a choice between this "flat" design or the one with the tapered flue, so we chose this one but we need to do some more reading up to make sure it's entirely suitable.
Here's an article at houzz.com with some good advice about the different types of cooking area hoods, fans and make up air units:
How to Choose the Right Hood Fan for Your Kitchen
It needed to make a choice between this one and a similar one which was a couple of hundred dollars cheaper, but this one has a bigger larder and a smaller freezer. We buy fresh food daily so we don't actually use a freezer much. Also the other model had to be opened by a concealed finger-well on the side but we preferred being able to pull it open from the front - it'd be easier for Georgi to open this one as well.


Please use the contact form if you have any comments or questions
about anything on this website.