The stone skirting we ordered has arrived and is starting to be installed.
The radius on the top isn't as perfect as I'd hoped, but we'll live with it. That's something we might be able to correct one day but the top edge needs a good polish anyway so that might iron out a bit of the flat spots. I know it's possible to produce a nicely rounded edge - I bought some marble from Turkey for the Marriott Courtyard Hotel in Tbilisi which had beautifully rounded and polished edges. If anyone ever visits that hotel then the bar and the hot and cold buffet counters a bit further along from the bar were all drawn up and procured by yours truly. The cold buffet counter in particular (a sort of London Underground logo shape) was well worth the sweating and loss of sleep in the days leading up to it arriving and being fitted. We had Indian stonemasons on that job - they were the best of the best!
Here's what it will look like after a bit of spit and polish - it goes quite well with the floor:
The skirting has just been loose-laid for the most part so far, but this is what the room will look like: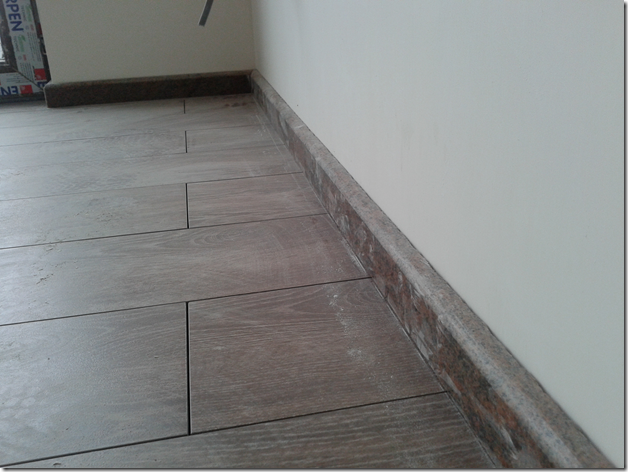 Mitring was never my forté so this is a lot better than I would have managed - even in wood. Once it's permanently fixed, filled, and polished it should look ok. We could even round those external corners off a bit.
There's a bit of jiggery pokery going on where the door opens but that will look ok after a final polish.
The living room flooring is nearly finished now.
This shows the plastic spaces and wedges which are used to get the floor perfectly spaced and level with each other. It's a slow job and a little bit expensive but it needs to be done right because Georgi's electric wheelchair, especially, is very heavy so the floor needs to be rock solid with no voids, and no flexure as there are underfloor heating pipes laid below it.
We're now thinking of using the same material to form the ramp up to the bathroom floor level. I still need to think about this a little because I would have preferred the door frame to be where the wall is rather than set back into the bathroom (and looking plain ugly from the inside) but there's no reason why we can't have a large gap between the bottom of the door and the ramp. It might even be possible to adjust a drop seal enough to cover that gap.